(or) The day our tech got schooled by a 5-year-old
A funny thing happened to one of our techs during a recent service call. A family had reported their rural internet service was out and we sent Kurtis to the rescue. The problem was found and solved pretty quickly – some connecting cables had been accidentally moved inside the home. But the whole time Kurtis was there, the family's little 5-year-old let him know how much this internet interruption had interrupted her life, with all the sass and authority only a Kindergartner could muster. Kurtis had trouble keeping a straight face – it was the best call of the day!
Stories like this are what keep our days interesting. We love our customers, and kids like this make things even more fun. But it got us thinking about how prevalent internet use is for entire households, from sassy toddlers all the way through to seniors approaching the century mark.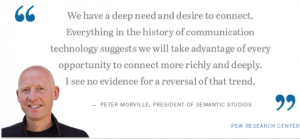 Internet connectivity represents a fundamental shift in how Americans connect with one another, gather information and conduct their day-to-day lives. According to the Pew Research Center, 9 out of 10 American adults use the internet on a regular basis. And roughly three-quarters of American adults have broadband internet service at home.
Baby monitors watch over little ones, with high-def images sent to parents across the house or across the city. Toddlers use the internet to stream their favorite shows or play educational games. School-age kids use the internet at school and at home, for education and entertainment. Parents do the same, adding in that many now can work from home or even run their own business from home. Seniors keep up with families using social media, plan trips, keep in touch with doctors and even have their health monitored using wireless technology connected to the internet. Even things like doorbells, refrigerators, and wireless security cameras are all connecting family members to each other and to the world.
And we haven't even touched on streaming yet as millions of households "cut the cord" and switch to internet steaming. Just last month Netflix announced record growth, shattering expectations in regards to customer growth by adding 5.2 million subscribers.
In a time where being connected to the internet is such a prevalent part of our world – and important to every single member of each household – we are happy and grateful to be the ones that our customers count on for fast, secure and reliable rural internet service.
Save