We're excited to share that Softcom was recently recognized as Business of the Month for April by the Galt District Chamber of Commerce. The Galt Chamber of Commerce recognizes a business each month that has proven itself to be a positive presence both financially and through active involvement and support of the community they are a part of.
"Softcom has an exceptional level of commitment to the community that really makes them stand out," said Chamber Vice-Chair Ann Ullrich, of Parker Realty. "For example, during our recent community Easter Eggstravaganza, the fire department ladder truck wasn't able to make it for the traditional egg drop. Softcom stepped in and offered the use of one of their trucks at the last minute so that the celebration could go on."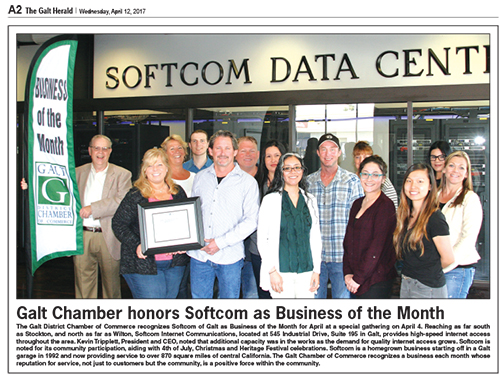 An article in the Galt Herald noted Softcom's impressive growth as a business in the community, as well as the company's continual support and participation of community events including 4th of July, Christmas, and Heritage Festival celebrations.
Here at Softcom, we're committed to providing people who live in rural areas the fast internet connections, exceptional customer service, and simple, affordable pricing they deserve. With more than 80 years of industry experience, an established infrastructure, and cutting-edge technology to stand behind our vision, we've been recognized over the years as a leader in the industry when it comes to bridging the gap between rural communities and large cities for high-speed internet access.
"We're grateful and honored by the Chamber's recognition, and pleased that our commitment to serving both our customers and our community helped us to stand out," said Kevin Triplett, Softcom President and CEO.